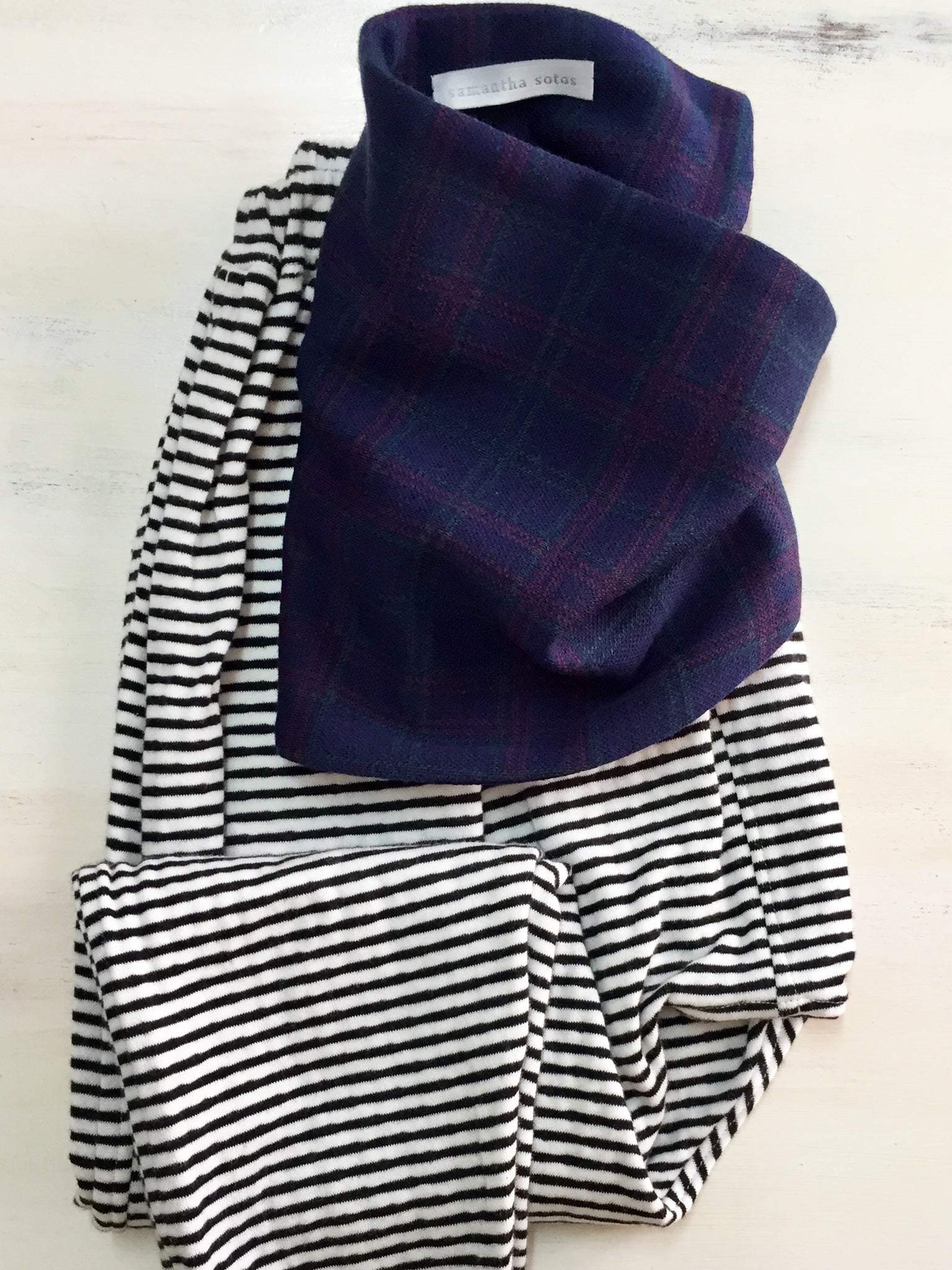 Navy Checkered Scarf For Boys And Girls
Navy Scarf
 Our navy checkered scarf is made from a soft warm fabric, which will put you in a Winter mood. Your kids will feel playful and alive in this beautiful navy checkered scarf.
The best thing about our navy scarf, is that it is for boys and girls. A unisex design and colour that will allow your kids to share and really put their relationship to the test! In the pictures we have styled our navy scarf with our unisex double sided striped organic cotton sweatpants, our navy silk blend shirt dress for girls and our violet silk blend designer dress for girls to show you how it can be styled for boys and for girls.
With two discrete press stud fastenings at the back, allowing you to adjust this navy scarf to your desired length and fit. A feature that has proven to be popular amongst our customers as it offers a practical and stylish solution and function.
Scarves are great gift ideas for your loved ones, your friends and your kids. Firstly as one size fits all, so it's a gift that can be worn immediately as there is no fear of it not fitting, and two they're the best fashion accessories as a neck scarf goes with everything. 
Product code: 211030
Colour: navy
Fabric Content: 57%rayon 28%poliamide 5%spandex
Care: Handwash.
Made with ❤️ in Athens
Need help? E-mail us at info@samanthasotos.com or call us +30 210 324 2517
Who you are helping
At Samantha Sotos, we believe in community. A percentage of our online sales go towards aiding families in need. We are proud that through our product we are able to offer this assistance, and we want you to know, that your purchase has contributed in making someone's life a little easier. 
Thank you for your support and for being part of a community that believes that, only together can we create a better tomorrow.
Thanking you
Samantha
x 
🙏
Read more on our community values.