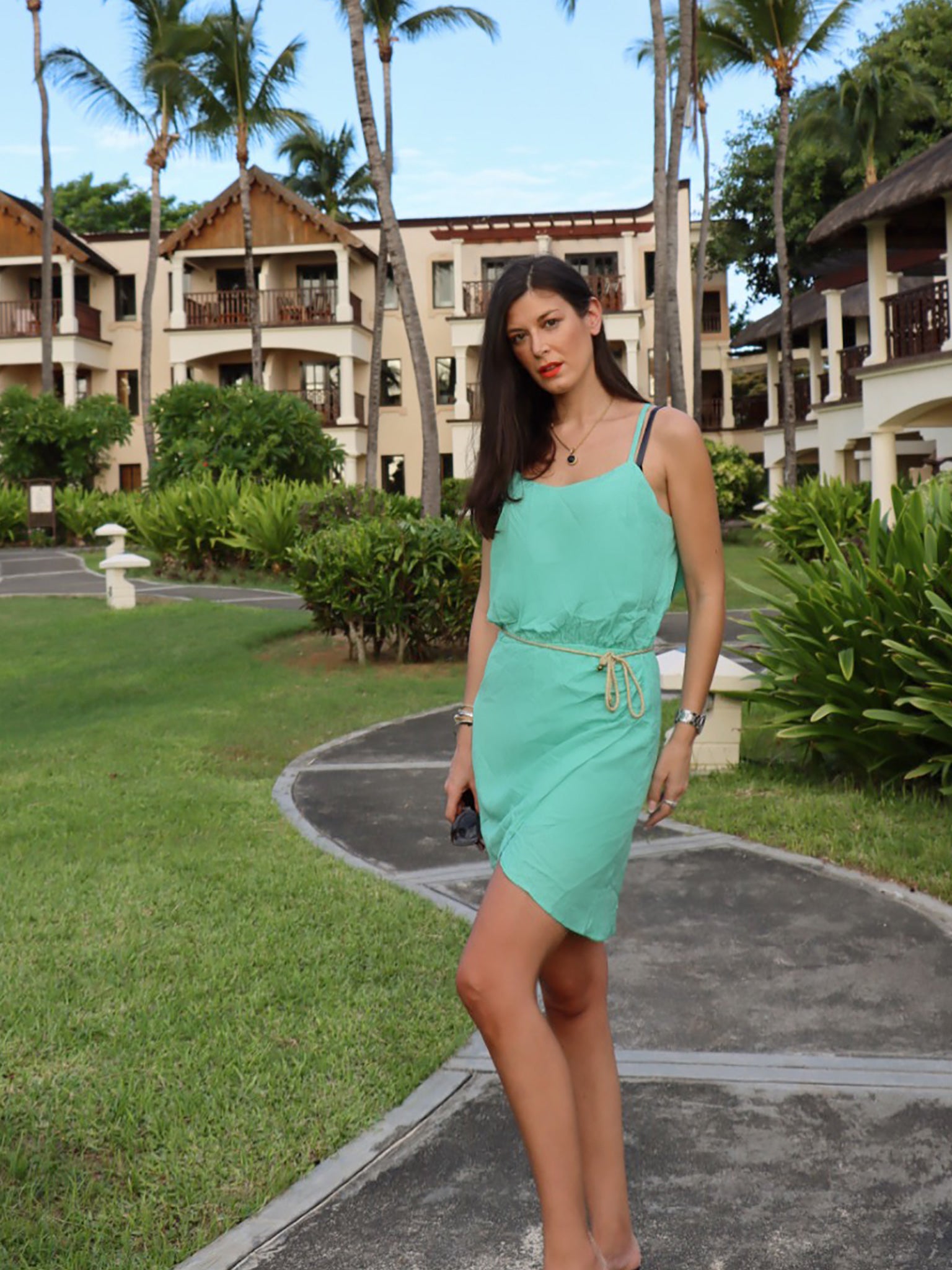 Mint Wrap Dress
Mint Wrap Dress
Our silk-blend short faux wrap dress is a great option for an evening out. It can be worn with sandals for a casual night out or with heels for a more exclusive outing. 
Our mint dress comes with our Grecian gold rope belt to give you that perfect fit and to add a bit of Grecian grace and glamour to your look. 
It's a great dress for an island outing while you're on holiday strolling through the alleys of your favourite Greek island.
We've put an elastic discretely on the waist to guarantee the best fit for you.
Our faux wrap dress gives you the idea of a wrap dress, but it's not. You won't be paranoid of the opening, instead, our pattern is made in a smart way, where even if it flies open, we've got you covered. 😉
We love our backs, and our mint dress has a great back design. 3 buttons secure the back, covering your bra, while a slit opening runs down the centre back, flirting with your followers.
Worn by Efi in Mauritius. A perfect look for a tropical island getaway.
In 4 gorgeous colours to choose from, which one will be yours?
Code: 21523
Colour: MInt
Content: 5%silk 95%viscose
Care: Hand wash.
Made with ❤️ in Athens

Need help? E-mail us at info@samanthasotos.com or call us +30 210 324 2517
Who you are helping
At Samantha Sotos, we believe in community. A percentage of our online sales go towards aiding families in need. We are proud that through our product we are able to offer this assistance, and we want you to know, that your purchase has contributed in making someone's life a little easier. 
Thank you for your support and for being part of a community that believes that, only together can we create a better tomorrow.
Thanking you
Samantha
x 
🙏
Read more on our community values.