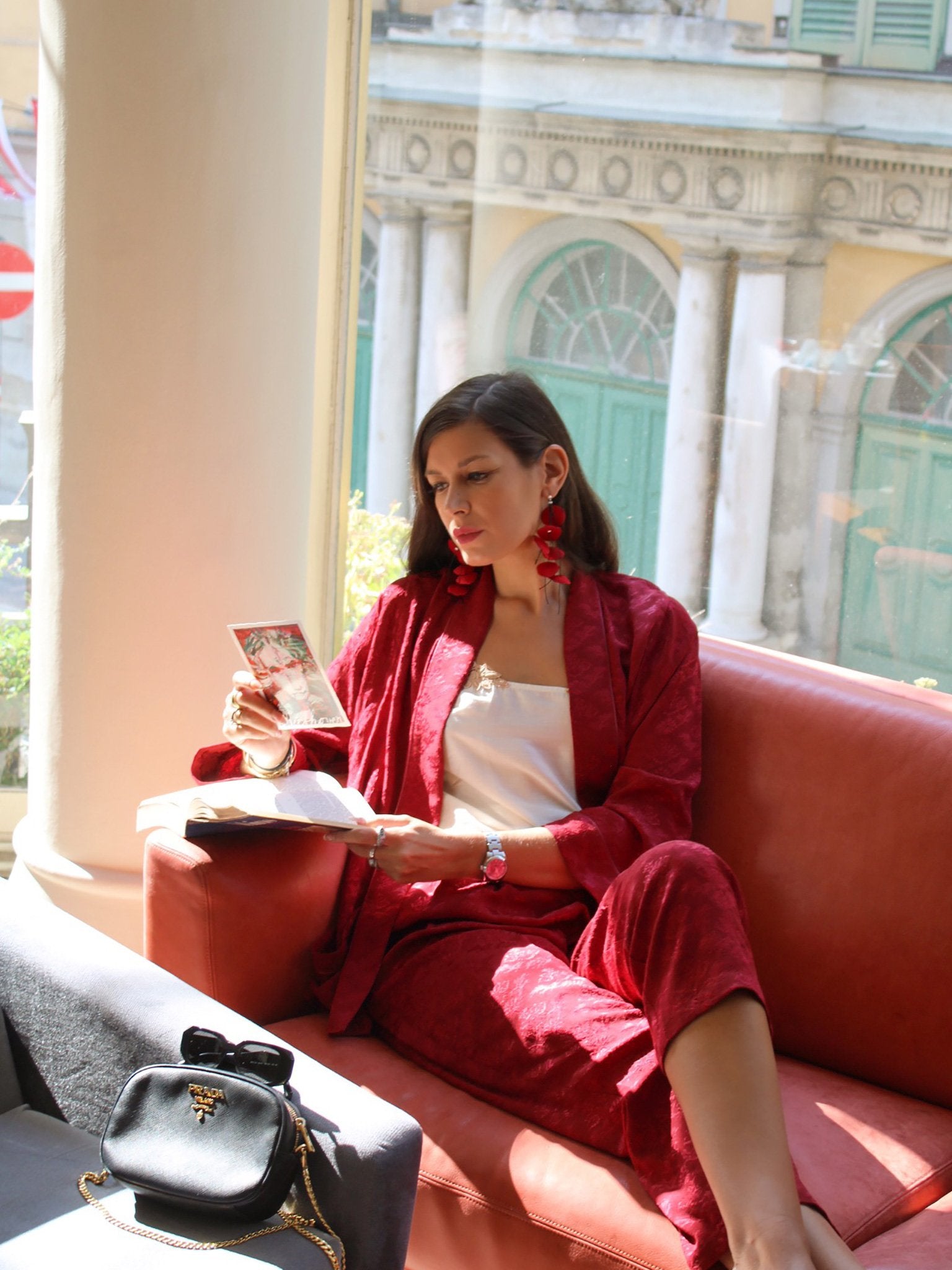 Wine Robe Evening Kimono Jacket
Wine Kimono Jacket
Our wine evening kimono jacket is a signature piece for our brand. A loose fit, allowing a medium to fit in a small too, and a large would fit in a medium, just ideal for many body types! A throw over everything type of robe jacket for evening and for day wear.
You can play around with styling our robe jacket. If you want a bohemian look, wear it in a casual way over your jeans and a loose shirt or T-shirt or a print dress. If you want a more evening look, go for an evening dress or cocktail pant  look. Either way you can create a new look and style each time.
A key feature to this wine robe jacket is our signature kimono long sleeve adding a relaxed yet confident feel to your look and officially speaks 'Samantha Sotos'.
Our new designer wine robe kimono jacket for women, is for the office or evening.  A long sleeve bohemian style, it is the best wine robe jacket for a smart casual style and look for ladies. 
Worn with our navy jacquard evening shirt.
Code: 19103
Colour: Wine
Content: 51%viscose  49%acetate
Care: Hand Wash
Made with ❤️ in Athens

Need help? E-mail us at info@samanthasotos.com or call us +30 210 324 2517
Who you are helping
At Samantha Sotos, we believe in community. A percentage of our online sales go towards aiding families in need. We are proud that through our product we are able to offer this assistance, and we want you to know, that your purchase has contributed in making someone's life a little easier. 
Thank you for your support and for being part of a community that believes that, only together can we create a better tomorrow.
Thanking you
Samantha
x 
🙏
Read more on our community values.